TAB (Tommy Aguilar Band)
Formed 1993 in Raleigh, North Carolina. Disbanded 1996.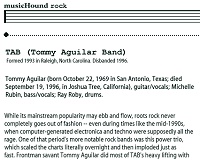 Tommy Aguilar (born October 22, 1969 in San Antonio, Texas; died September 19, 1996, in Joshua Tree, California), guitar/vocals; Michelle Rubin, bass/vocals; Ray Roby, drums.
While its mainstream popularity may ebb and flow, roots rock never completely goes out of fashion -- even during times like the mid-1990s, when computer-generated electronica and techno were supposedly all the rage. One of that period's more notable rock bands was this power trio, which scaled the charts literally overnight and then imploded just as fast. Frontman savant Tommy Aguilar did most of TAB's heavy lifting with his amazing voice, a choirboy instrument seemingly at odds with his skronkier musical tendencies (his was some of the wildest-sounding guitar-playing this side of Jimi Hendrix). Aguilar wove together numerous far-flung musical threads, most notably Hank Williams-caliber country pathos, classic soul passion, improvisational jazz dementia and over-the-top bonehead metal. In his hands, these seemingly incongruous threads all somehow cohered into a space-age rockabilly/punk that does not seem to belong to any specific century.
As exciting as TAB was, the group wasn't built for the long haul (bands predicated on instability seldom are). TAB's darker side manifested itself in Aguilar's chronic heroin problem, an addiction that eventually killed him. Aguilar also had a disturbing propensity to turn TAB performances into literal as well as figurative riots -- a tendency acknowledged in the enormously popular video to TAB's No. 1 hit single "Go As You Are." But that success couldn't keep TAB from flaming out spectacularly. Following the release of its 1996 breakthrough album Chorus Verses Chorus, TAB managed to play just two live shows, both of which lasted only one song each and ended in riots. Following TAB's disastrous final show in Las Vegas, Aguilar fled into the desert, where he died of a drug overdose under mysterious and tawdry circumstances near Joshua Tree, California.
what to buy: Most of TAB's mythology is based on the aforementioned Chorus Verses Chorus (Grandiose/Poly Brothers Records 1996, produced by Clay Dickerson)

. Equal parts studio polish and frenzied excess, it remains a dazzlingly ambitious effort whose apocalyptic power has not dimmed with the passage of time. At the time, critics dubbed Chorus Verses Chorus "pun rock" for its elliptical one-liners ("All I'll ever try is your patience, "Dumb and number" and so forth), and the numerous references to guns sound eerily prescient in light of subsequent events. But frankly, Aguilar's lyrics are the album's weakest link. The only reason so many people found the words so resonant was that they were vague enough to mean literally anything you wanted. Plenty of disaffected teenagers took them to be a cleverly coded State of the Union address, and snapped up the album in record numbers. But while the lyrical soundbites and the arresting "Go As You Are" video earned Chorus Verses Chorus its initial buzz, the intensity of the performances (not to mention the hooks) are why this music has lingered beyond its maker's 15 minutes of fame.
what to avoid: Released suspiciously soon after Aguilar's death, the posthumous Second Verses: Unfinished Business, Volume 1 (Grandiose/Fold Hi Records, 1996, produced by Clay Dickerson and Geoff Baker)

is an egregiously crass cash-in. Given its contents -- remixed first-album outtakes plus some heavily overdubbed early demos -- it's a tribute to Aguilar's abilities that Second Verses has any merit at all. Aside from a few standouts ("Got My Workin' Mojo," "Bomb Me, Baby, Right to the Bar"), the album doesn't hold up. But it's still better than the genuinely odious Goin' Down Fast: Unfinished Business, Volume 2 (Fold Hi Records, 1997, produced by Clay Dickerson and Geoff Baker)

, which signifies that the bottom of the barrel may be at hand. Rumor has it that another few dozen unfinished TAB tracks remain in the vaults; it's hard to imagine they won't all see the light of day eventually.
worth searching for: Before moving up to the majors, TAB made one self-released mini-album, the hard-to-find Come Go Away (TaBeach Records, 1995, produced by Bob Porter)

. It's surprisingly accessible, thanks to the top-dead-center placement of Aguilar's vocals, but still plenty raw. The band's first independent single, "Rock Hit Back to Black" (TaBeach Records, 1994, produced by Bob Porter)

, is an extremely valuable collector's item because it was never actually for sale; only a few hundred copies were made for college radio stations. It's worth hearing if only for the B-side cover of the Sex Pistols' "Holidays in the Sun." All of these tracks were to have been included on the above-mentioned Goin' Down Fast, but were pulled at the last minute for unknown reasons.
As for bootlegs, Leaving Las Vegas (Sugbat Records, 1996, no producer listed)

has to be one of the most curious records ever released. It consists of TAB's final riot-torn live performance - all 10 minutes of a scarifying meltdown of "Holidays in the Sun," in which Aguilar goes rocketing out of control and takes a stadium-full of people with him. The rest of the CD is filled out with recordings of various television and radio news reports about the riot and Aguilar's subsequent death. The CD booklet also reprints newspaper and magazine accounts of the show (complete with a photograph of a wild-eyed Aguilar posed with a gun in his mouth), and has a tombstone on the cover. Creepy and exploitative, but still morbidly powerful.
influences:

Sex Pistols, X, Buzzcocks, Nirvana, Rampagans, Johnny Cash, Replacements, Beck, Otis Redding, Charlie Parker, Motorhead

Blasting Concept