Buy the book !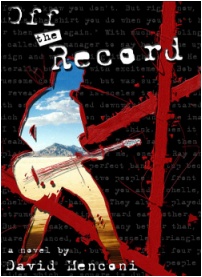 "Off The Record" can be ordered directly from the publisher, iuniverse.com -- click here to order it from iuniverse.com.
You can also order it from Barnes & Noble online, amazon.com,Miles of Music or the News & Observer bookstore.
You should be able to order it from any bookstore using the ISBN serial number: 0-595-13330-4.
Retailers can order wholesale-price copies of "Off The Record" from iUniverse by calling 877/823-9235 (choose option number 6). It should also be available for wholesale ordering from Ingram's.
"Off The Record" is available at the following fine stores.
Raleigh, NC -- Quail Ridge Books, Crooked Beat Records, Record Exchange, Borders (Six Forks/Wake Forest).
Cary, NC -- Barnes & Noble
Durham, NC -- Regulator Books
Chapel Hill, NC -- Record Exchange
Greensboro, NC -- Barnes & Noble
Austin, Texas -- Book People
Author Appearances

None Currently Scheduled