The Book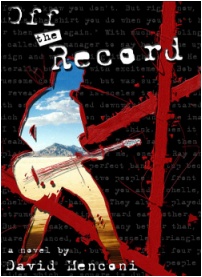 Praise for "Off the Record"
"A pure American tale of insanity, lust and gonzo, flat-out rock-n-fucking-roll!!!"
— Mojo Nixon
As a rise-and-fall-of-a-rock-band novel -- here about a Nirvana-like trio from Raleigh, N.C. -- "Off the Record" is distinguished by thrilling accounts of songs coming together and songs coming apart: Menconi, who writes for the News & Observer in Raleigh, can get music on the page. He can get his words off the page: A producer compares recording a note or a phrase at a time "to filming car wrecks by leaving cameras running on street corners." On signing with Gus DeGrande, the Don King of the music business: "Ken could only assume that, with Joseph Stalin and Colonel Tom Parker unavailable, Tommy had settled for the next worst thing." But then comes the first show of the band's tour behind their smash album, which the Kurt Cobain figure opens and closes with his version of the Sex Pistols' "Holiday in the Sun." Played once.
— "Real Life Top 10," By Greil Marcus Salon, 1/7/01
"From the halls of Ol' Missoula to the shores of Myrtle Beach, there's a lot of gigs out there. Dave insightfully brings the excitement, anxiety, ridiculous volume and stale beer smell right to your living room with the eyes (and nose) of one who's been there."
— Audley Freed, Black Crowes
"The book kept me laughing and wondering if it was about a real band I'd missed somehow. Intellectually, I knew it wasn't real; but I went to the website and it looked so real. And it sounded absurd and real. Like all the irritating and funny and creepy things that really happen in this fucked-up business I'm in, but a twist. A really sick twist, and I'm going, 'What if he's right? What if, behind all the normal bad luck and jive-ass junk that happens to bands, there are people this insidious?' And then I think, 'Hell, he made this stuff up! He must be the ultimate sicko!'"
— Don Dixon
"David Menconi writes from the perspective of someone who understands the people in the industry as well as the music — the latter far, far better than I ever did. Even as fiction, it waves a warning flag at kids dying to get into the business at any cost. Not that they'd be ready to buy into the truth as readily as they would a sweet deal that looks too good to be true (and likely is). Good show, David. Rock on."
— Robert S. Levinson, author of "The John Lennon Affair" (Forge Books, 2001)
"'Off The Record' is funny, touching and all too real to anyone who knows the insides of the music industry. Whether it's the Southeast scene, the lower East side or the Great Northwest, the tale Menconi tells of a rising band rings all too true. Those who know this world will find laughs in this novel — and those who don't will find insight into a world of talent, ego and all the things that make great rock 'n' roll stars worth writing about."
— Charles Cross, author of "Heavier Than Heaven: A Biography of Kurt Cobain" (Hyperion Books, 2001)
"So you want to be a rock 'n roll star? Read 'Off the Record' first. David Menconi understands the music business — from the seamy bars to the towering superdomes — and knows how to spin a first-rate tale. The result is a fascinating between-the-lines look at how the Pearl Jams, Aerosmiths and Kurt Cobains got where they are (or were). A must-read for the serious music fan."
— Bill Henderson, author of "Stark Raving Elvis" and "I Killed Hemingway" (2/2/01)
"I really couldn't put it down. I had trouble NOT reading it, I just had to find out what was gonna happen to this band. The part about the first tour they did really hit home so close. Reading about this poor band playing towns like Columbia, Greenville, South Carolina, I really envisioned actual nights we had to go through — no hotel rooms, no gas money, the van breaking down. That was all there."
— Doug McMillen, Connells
" A great read, a gripping tale for people inside and outside the music industry. '"
-- Ian Koss, Ink 19 (October 2001)
" Should thoroughly entertain the average reader while rewarding more avid music fans with plenty of thinly veiled references to actual persons, both living and dead. '"
-- Columbia (SC) Free Times, 10/10-16/01
" "A doozy." '"
-- Thrust Quarterly/Cosmik Debris
" "The evil twin of 'High Fidelity.'"
— Los Angeles Daily News
"One of the best reads I've had in a long time...Move over 'High Fidelity,' and tell 'Almost Famous' the news."
-- John Holcomb, Amplifier Magazine
"Off the Record" is alternately horrifying in its realistic take on how young people can be destroyed by the star-making machine and funny as hell in its wordplay and inside take on how it works.
— Ken Lieck, Austin Chronicle (7/20/01)
This knowledgeable, cautionary tale embraces the gut-kick power of a tell-all biography.
— Ken Burke, Blue Suede News (Summer '01)
"An imaginative, well-constructed plot with enough sex, guns, drugs, death, greed and treachery for a junior Jackie Collins potboiler."
-- Ira Robbins, Hartford Courant
"Menconi writes like a lead singer sings, and 'Off the Record' rocks!"
— Harry Calhoun, " The Writers Hood"
"Could become a touchstone...in much the same way all musicians swear by the satire/reality of 'Spinal Tap.'"
— Elmira (New York) Star-Gazette
"A real eye-opener."
— The Independent Weekly
"Takes us into the netherworld known as the music business, where nothing is as the record label publicists tell us and the really choice information is always 'off the record.'"
— Durham Herald-Sun
"Should be required reading for anyone who thinks they want to be a rock 'n' roll star."
— Metro magazine
"Goes through the looking glass to imagine the worst-case scenario that could happen to a band."
— Chapel Hill News
" After page 38, I had a hard time putting the book down."
— Spectator Weekly
"Off the Record" should be required reading for anyone dreaming of a music biz career, from pop star to critic to bouncer. An enjoyable, eye-opening adventure, the story moves swiftly, concisely, and smartly over terrain most often presented in any way but truthfully. The interweaving characters, who feel like people you've met, lead us behind the scenes and into the lies that sell records and destroy lives. Turning on the radio will never be the same once you know what happens Off the Record."
— John Schultz, director of the movie "Bandwagon" (Cinepix Pictures, 1997)
Menconi has succeeded where so many have previously failed: He has written an interesting, thoroughly enjoyable book of rock and roll fiction. And I'm not just saying this because he gave my solo album "Look At Me, I Can Sing Too" four stars. It's good!
— Jon Wurster, drummer of the rock band Superchunk
"Off The Record" had me glued to its pages. Mr. Menconi spins this mystery like the deadly black widow spins its web of webby goodness. However, the critic in me did take issue with one item I came across in this book: I'm pretty sure The Clash did "Holidays In The Sun," not the Sex Pistols. Kudos to Menconi nonetheless.
— Ronald Thomas Clontle, world famous rock critic and author of "Rock, Rot and Rule"
For those of you who read Elmore Leonard's 'Be Cool' and thought it provided some nifty insight into the record business -- wait until you get your hands on this. Of the 40 or 50 books I've read this year, 'Off The Record' is in the top three.
The tale follows Tommy Aguilar from his first appearance on the Raleigh music scene (jumping onstage during a set break at a local venue), through the rough first few tours and his meteoric rise to pop stardom and sold-out arena shows. Along the way Tommy and the reader meet up with incompetent label owners, evil managers, dinosaur headlining acts, groupies, aspiring music writers, club owners both benevolent and malevolent, two-faced band members and, of course, mechanical problems with the tour van.
After I read this book, the Woodstock '99 fires and riots seemed like deja vu. Keep your eye out for it: 'Off The Record,' by David Menconi. You will not be able to put it down until the last page is turned.
— Van Alston, co-owner/world-famous Lakeside Lounge (Raleigh, NC)