It's the rock and roll story too controversial to tell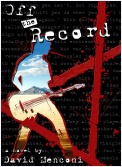 Welcome to the TAB/"Off The Record" homepage -- where we're dedicated to giving you the truth, the whole truth and NOTHING BUT the unvarnished, ugly and most of all off-the-record truth. Because if it's not off the record, folks, then it probably ain't true. TAB was the Tommy Aguilar Band, a genuinely revolutionary rock 'n' roll band. Equal parts horrifying train wreck and fascinating cautionary tale, TAB's brief, stormy history is a "Behind The Music" episode waiting to happen. But until VH-1 gets around to it, you'll have to settle for reading about it..."Off The Record."
DRAMATIS PERSONA
Tommy Aguilar

Guitarist, singer and namesake for the Tommy Aguilar Band (TAB), one of the strangest one-hit wonders of recent times. The controversial power trio's history is chronicled in David Menconi's unauthorized history, "Off The Record" (2000, iUniverse Books). For more on TAB's career and music, including discography, click here to see the entry from "MusicHound Rock: The Essential Album Guide" (1999, Visible Ink Press).
Michelle Rubin


Tommy's bandmate, the bass player and lone sane individual in TAB, an experience she never quite got over. Michelle kept a journal during TAB's early period. To see excerpts from her tour diary, click here.

Bob Porter
If anyone can claim to have "discovered" TAB, it's Bob Porter, proprietor of Each nightclub in the band's hometown of Raleigh, North Carolina. Porter produced TAB's first single and mini-album, and also managed Tommy for a time. Click here for Bob's thoughts on how to manage a successful nightclub.
Ken Morrison
Rock critic at the daily newspaper in Raleigh, the Daily News, Ken served as TAB's unofficial propagandist. He penned reams of copy about the band in numerous publications, and rumor has it that "Off The Record" was actually written by Morrison under a pseudonym (an accusation he denies). Click here to see Ken's first big profile of TAB, which ran in the Daily News and was widely reprinted after it went out over the Associated Press wire.
Gus DeGrande
One of the most powerful individuals in the music industry, a promoter with an iron grip on a large chunk of the U.S. concert market. He oversaw TAB's rise to stardom. Recently, tape transcripts have surfaced from a purported autobiography in-progress. We make no claims as to its authenticity, but from what we know of DeGrande it rings true. Click here to see an excerpt.